A Roaring 20s Murder Mystery Dinner at Ten Fifty Eight!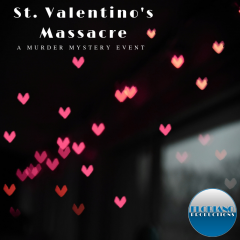 November 3, 2018 @ 6:00 PM EDT - November 4, 2018 @ 12:00 AM EDT
Saturday, November 3, 2018.
Ten Fifty Eight
1058 Cleveland Rd.
Sandusky, OH 44870
Doors Open: 6:00 pm
Grand Dinner Buffet: 7:00 pm
Decadent Dessert Bar: 7:45 pm
Take a step back in time for a mysterious evening of murder and mayhem! Enjoy a mouthwatering menu and lots of excitement as you attempt to solve a killer mystery!
It is 1927, and the premiere of the silent film, "Silent Floozy", starring those well known husband and wife film stars, Valentino Giuliani and Lacy LaRue. When film critic and gossip columnist, Louella Novella turns up dead, it doesn't exactly cast a pall over the evening, in fact, several of the suspects are almost doing "The Charleston", for joy! Flappers, gangsters, bootleg whiskey and a very discrete speakeasy called "Big Vinny's", is roaring with the fun and fantasy that was the 20s! Rudolph Valentino may be dead, but Valentino Giuliani is not ...at least not yet!
Menu:
Prohibition Prime Rib
Italian Sausage
Capone's Cabbage Rolls
Vinny's Chicken Parmesan
Cheese & Potatoes
Twice Baked Potatoes
Whole Green Beans
Sweet Yeast Dinner Rolls & Honey Butter
Salad Bar
Ticket price: $45 per person/$80 per couple