Murder Mystery at the 20th Annual Harvest of Thanks!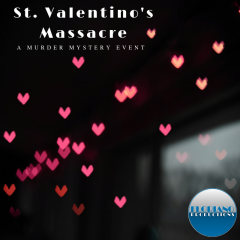 November 10, 2018 @ 6:00 PM EST - November 11, 2018 @ 12:00 AM EST
Saturday, November 10, 2018.
The Premier Banquet Hall
4480 Heatherdowns Blvd.
Toledo, OH 43614
Start Time: 6 pm
Attire: 1920s themed or cocktail
Individual tickets: $175
Dinner, dancing, and entertainment included in the ticket price. Will you be able to solve the murder mystery of St. Valentino's Massacre? This 1920s themed plot is sure to make this year's Harvest of Thanks an evening to die for!
It is 1927, and the premiere of the silent film, "Silent Floozy", starring those well known husband and wife film stars, Valentino Giuliani and Lacy LaRue. When film critic and gossip columnist, Louella Novella turns up dead, it doesn't exactly cast a pall over the evening, in fact, several of the suspects are almost doing "The Charleston", for joy! Flappers, gangsters, bootleg whiskey and a very discrete speakeasy called "Big Vinny's", is roaring with the fun and fantasy that was the 20s! Rudolph Valentino may be dead, but Valentino Giuliani is not ...at least not yet!
All proceeds will benefit the Food Bank's programs that provide meals for the hungry men, women and children in Northwest Ohio.